I've been trying to find some time to do some holiday baking - I've been gathering recipes and putting together some ideas in my head. I came across this recipe (it looks absolutely delicious) and I will definitely be trying it out this year! Hellloooo, yummy-ness!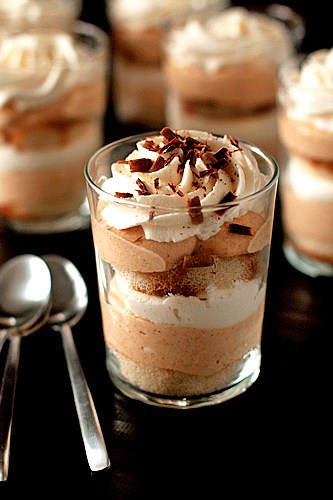 Mini Pumpkin Tiramisus
Ingredients
Lady Finger Layer
3 ounce package of lady fingers
1 teaspoon instant espresso granules; dissolved in 2 tablespoons hot water
Pumpkin Sour Cream Layer
8 ounces of cream cheese; room temperature
¼ cup Breakstone's Sour Cream
1 teaspoon pumpkin pie spice
¼ cup pumpkin
¼ cup plus 2 tablespoons sugar
1 teaspoon pure vanilla extract
Whipped Topping Layer
1 ½ cups of heavy cream
½ teaspoon pure vanilla extract
1 tablespoon plus 1 teaspoon sugar
Directions
1. In a medium bowl, combine cream cheese, Breakstone's sour cream, pumpkin pie spice, pumpkin, sugar and vanilla until well mixed. Set aside.
2. To make the whipped topping, beat the heavy whipping cream, vanilla and sugar until the mixture creates stiff peaks.
3. Lightly brush the lady fingers with the espresso until dampened on both sides (do not oversaturate).
4. Using your mini parfait glass as a template, cut out 12 circles from the lady fingers.
5. Gently place a lady finger circle into the bottom of each mini parfait glass.
6. Generously spoon or pipe the pumpkin layer over the lady fingers
7. Spoon or pipe the whipped topping directly onto the pumpkin layer.
8. Repeat layering a second time to fill the parfait glasses.

If desired, finish with a sprinkling of chocolate shavings.