H
appy Monday and Happy Thanksgiving week! It's a 4 day work week, who wouldn't be excited for that?! Some of you have THREE day work weeks... lucky bishes.
Today is the first day (of three) to participate in The Thankful Series link up hosted by myself, Mallory, Jen and Colby!
It's easy. Just post about something you are thankful for, or a special staple recipe you have for Thanksgiving, grab the button below and link up! It's a great way to meet new bloggers :) And because there is so much to be thankful for, we are doing the link for three days, leading up to Thanksgiving.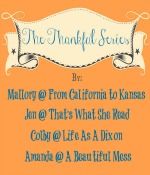 I am thankful for my family. My big, crazy, loud family. Growing up, whenever I was feeling down about something my mom always told me, "at the end of the day, you will always have your family." Of course I never believed her. Whatever event was happening at the time was surely going to ruin my life! And now that I am older and have lived (and survived!) some crazy, tramatic and emotional events (that is probably a little dramatic) I whole heartily believe it. Moms are always right! ;)
And last but not least, I am thankful for my hubby! He keeps me grounded, he makes me laugh and best of all, he makes life a whole lot of fun!
What are you thankful for this year!?