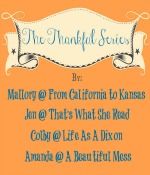 Happy Saturday Blogging Friends! Who is excited for Thanksgiving!? I know I am :) I love Thanksgiving, like really love it. I love hanging around and catching up with friends and family, and eating YUMMY food. I LOVE to cook, so there is a little something extra in it for me.
Next week, I am hosting a link up with Mallory, Jen and Colby!
To join in the fun, share on your blog a favorite Thanksgiving recipe or tradition or what you are thankful for. Grab the button below, then come back to link up. You can post on Monday, Tuesday or Wednesday!
I can't wait to read all of your posts! I will pick a few to share on my blog in an "after Thanksgiving post" :)