There are so many link ups that I want to participate in today. I want to tell you about my weekend but I also want to #bragaboutit. I also want to tell you about a giveaway that I came across this morning... since I can't decide I am just going to do a little of each. Mmmm, k? (Is this even allowed?)
Weekend update with Sami :)
Can we all just take a look at how cute my husband is when he plays with babies? My heart = melted.
On Saturday we brunched with some friends in Tampa. I devoured the most amazing brie and arugala sandwhich OF MY LIFE. We also enjoyed some $10 bloody mary's (they were totally
worth it).
Yesterday I ran 4 miles for my
half marathon training
. It was pretty hard. I totally wanted to die half way through because, one: I had a side ache almost the entire time (too much coffee that morning, lesson learned) and two: it was way too hot to be running outside--one reason I hate Florida. Probably the only reason. I love running outside but I can't handle the heat. I'm trying to get used to it. TRYING. After the run I proceeded to lay around on the couch because my legs were not very happy with me. I plan to take full advantage of this "rest day" that is today :)
I woke up this morning and the first thing I thought about was, what do I want to brag about today? I didn't have an answer. I am still searching for something good to brag about. Something that tells you stuff about me that you don't already know...But since I can't think of anything I will give you this:
I have the cutest and sweetest pup on Earth. #bragaboutit
I am already sad thinking about leaving her for Christmas. :(
Now, something I MUST tell my lovely readers about, because you just can't miss this opportunity. Kaitlyn from
Wifessionals
and a ton of other Bloggers are giving away an iPad Mini! There are lots of ways to enter, so you must check it out! It's also a great way to discover awesome new blogs and Bloggers!
Don't forget to enter my giveaway, it ends next Monday!!!
ok, peeps. I am off to drink more of this, in my festive mug: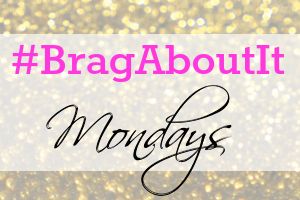 Have a great Monday!